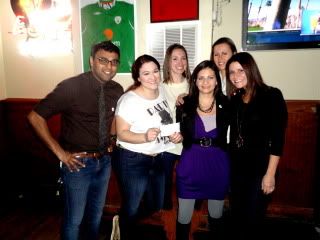 See below for the press release from our event:

TEAM CHARITY GIVES GRANT TO LIBERTY HUMANE SOCIETY
HOBOKEN, NJ  – January 19, 2012 – A non-profit geared towards young professionals granted Liberty Humane Society $1,000, thanks to two generous volunteers who applied on the shelter's behalf. 
Team Charity formed the Ambassador Grant with the goal of letting their constituents choose where they donated the money they raised through some of their social events throughout the year. The first grant was given to Liberty Humane Society on behalf of volunteers Carina De Vera and Ines Lopes in December 2011, and celebrated this past Thursday at Mulligan's in Hoboken, where they raised an additional $256.
"I truly believe in Team Charity's mission and love what they are doing," said Lopes.  "It is a wonderful organization that supports a cause I hold dear to my heart and I'm thankful the grant will be put to good use and aid in Liberty Humane Society's housing upgrade campaign."
Team Charity was formed in April 2007 by Nicole Fulmino and Maria Cruz with a goal to get young professionals more involved in philanthropy within their communities.  For the first few years,Team Charity would partner up with other organizations and raise money together.  But when Team Charity became an official non-profit in 2009, Fulmino, Cruz and board members Ritesh Shah and Jimmy Desai decided to form their own grant.
"The Ambassador Grant cannot be applied for by an employee of the organization," explained Fulmino.  "By requiring a volunteer or other supporter of the organization to apply, we are enhancing our mission of getting young professionals more involved in their community."
"We couldn't have been happier that Ines and Carina provided such a compelling application for Liberty Humane Society," said Cruz, who once fostered a dog from that shelter.  "Team Charity volunteers there often and it is always a favorite activity for our group."
Infact, volunteering is more a focus of Team Charity than fundraising is.  The group has 2-4 volunteer events a month and about 6 social fundraising events a year.   They look forward to celebrating their five years as an organization this May.
For information on future events, visit www.teamcharity.org.
###