| | |
| --- | --- |
| Posted by Team Charity on October 24, 2010 at 11:21 PM | |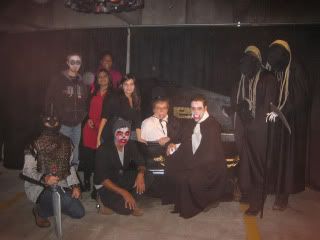 This is one of those great moments where my worlds collide.  George Costanza may have hated moments like these, but I happen to love them!  While most of you know me as the girl from Team Charity, I spend most of my waking hours working for Children's Specialized Hospital Foundation.  I am the Children's Miracle Network Program Director and I travel around the state working with fantastic national, regional and local sponsors through the Children's Miracle Network Program.  All of the money raised through Children's Miracle Network sponsors in Central and North Jersey comes back to Children's Specialized Hospital.  Children's Specialized Hospital is the nation's largest pediatric rehabilition hospital in the United States.  We are the preeminent provider of rehabilitation for children with special needs. The hospital serves children affected by brain injury, spinal cord dysfunction and injury, premature birth, autism, developmental delays, and life-changing illnesses. Children's Specialized has eight sites in New Jersey and treats over 17,000 children each year.
I could go on and on talking about Children's Specialized Hospital and what a wonderful place it is to work, but I'm going to put my Team Charity hat back on and tell you what a great time we had there last night!  The Haunted Trail is an annual event hosted by Children's Specialized Hospital's Friday Night Fever group.  They transform the parking deck at our Mountainside location into a haunted trail with several scenes from a graveyard to hell's kitchen to the Salem witch hunt!  Team Charity took over the haunted mansion, and I have to say - it was even more fun than I thought it would be!  We had a armoured knight, a possessed mirror, two vampires, two grim reapers, and two live faces in picture frames!  With our behind the scenes crew included, there were ten of us scaring the day lights out of the general Mountainside community. Groups came through with either red necklaces (go easy on them) or green necklaces (scare the crap out of them) indicating their level of desired fright.  I think we gave them a great show!
On a personal note, this totally reminded me of the haunted house my brother James and I (along with our neighbor Danielle) used to create for the neighborhood growing up.  My oldest brother Christian used to get in on the action during show time, but James, Danielle and I would start making spooky decorations in August!  I can't remember exactly, but I want to say this went on for at least three years.  Last night made me so reminiscent of those days!  Right down to having to stop the show for crying children (haha - don't worry - there were only a few!).  
I have always loved Halloween and this past week of pumpkin carving and acting like ghouls with TC, really made me have that childhood feeling of fun that this season brings.  I hope you all are feeling it too and thanks to everyone who came out this week!  Have a safe, fun and happy Halloween everyone!!!  
Much <3 - Nicole